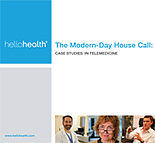 As telemedicine is poised to surge, primary care physicians especially see the opportunities and benefits inherent in providing these services to their patients.
Download our free e-book, which profiles three clients that used the telemedicine functionality within the Hello Health EHR and patient portal to enhance patient satisfaction and care.
"We live in a time where they simply expect it," she says. "You can do everything else online, why not this?"

- Elizabeth Beautyman, M.D. - Internal Medicine and Hematology, New York, NY.
About Hello Health®
Hello Health® is the only no-cost electronic health record (EHR) that generates incremental revenue through a patient subscription model. Our Internet-based solution includes practice management tools and a patient portal on a secure platform. www.hellohealth.com